home
**
listen!
**
archives
**
schedule
**
radio station affiliates
**
show playlists
**
the witch doctors
**
dig our sponsors
**
visit cool links
**
get on the email list
**
contact us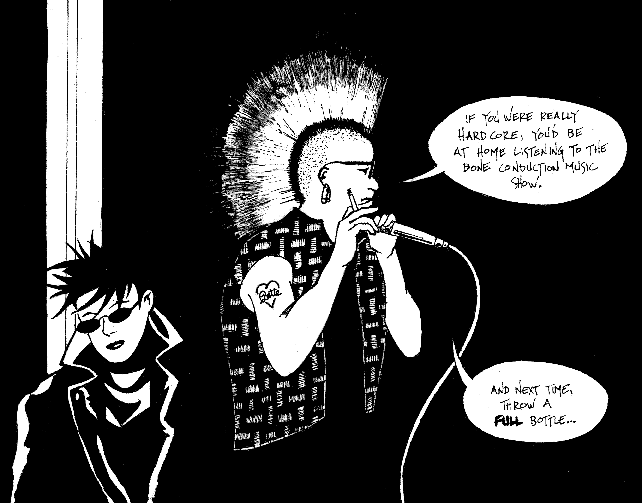 Drawing courtesy of Jim Ottaviani, The Official Drawer of The Bone Conduction Music Show.
The Bone Conduction Music Show:
is broadcast weekly and covers the Detroit Michigan, Toledo Ohio, Windsor Ontario, Belleville metroplex,
raised more money and got more financial support pledged during Spring and Fall Fund Drives on an hourly basis than ANY other show in the history of WEMU,
is recommended by three out of four Rodeo Clowns,
gets more way far cool press and media splash in the local major news media (Detroit Free Press, Detroit News, Ann Arbor News, New York Times, The Factor with Bill O'Reilly, Tony Snow Weekend, etc.) than any other show on in the broadcast area,
is taped in entirety by hordes of anxious tape slaves and distributed world-wide weekly (I have received mail from Cambodia informing me that there is a Khmer version of "Play That Funky Music White Boy"),
has been known to induce seizures in laboratory animals and college students (similar brain wave patterns were detected in both species),
is the only show in the entire history of Mankind to employ
The Bill Blass Designer Carry-On Bag of the Blues,
breaks new Blues and R&B talent weekly as a matter of policy with no regard whatsoever to pseudo radio science programming "wizards" and "market consultants" (a specious group of droids, if there ever was one),
is committed to ending world hunger as we know it and bringing about a lasting and permanent world peace (remember, we care, and we can help!)
Hey, all you lovable little knuckleheads, thanks for listening and the generous support! Keep up the good work, you deserve a raise!
Remember, we care, and we can help!

Back to The Bone Conduction Music Show home page.

home
**
listen!
**
archives
**
schedule
**
radio station affiliates
**
show playlists
**
the witch doctors
**
dig our sponsors
**
visit cool links
**
get on the email list
**
contact us