On The Edge Employee of the Month
Benefits
Benefits of the official and highly coveted On The Edge Employee of the Month include but are not limited to:
Special preferential parking spot
Front of the line pass at the "all you can eat" corporate shrimp buffet
Complimentary balloon animals
Likeness on a plaque outside of the executive suites in the On The Edge Corporate Headquarters
Major discounts on bathroom tissue and soap fees
...and much, much more!
October's Winner
Congratulations to Roseanne Barr, October's Employee of the Month!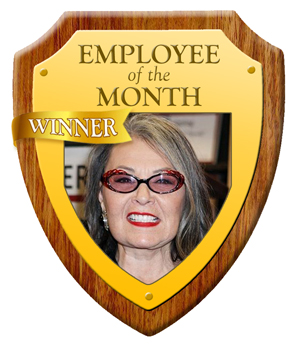 Previous Winners

Roseanne Barr
October 2011

Sheila Jackson Lee
September 2011


Jane Fonda
August 2011

Kim Jong Il
July 2011

Muammar Gaddafi
June 2011
Copyright ©2023 Coolarity, Inc.
Original Site designed by Waypoint Arts