**

listen!
**
archives
**
schedule
**
radio station affiliates
**
show playlists
**
the witch doctors
**
dig our sponsors
**
visit cool links
**
get on the email list
**
contact us

We don't encourage you to try this at home but we certainly would if you were on The Bone Conduction Music Show
This is an unorthodox and slightly bizarre dairy farming method that never caught on in this country. As quiet as it is kept, this produces excellent milk yields and completely eliminates the middle man distribution chain. Milkmen all over America lobbied successfully through dairy PACs in our nation's capitol to bar this practice from taking hold down on the dairy farm. The major problem associated with this technique is that often the cows become infatuated, even going so far as to fall in love. They can even start calling you at your office at all hours of the day. Next thing you know, the cows expect dinner out, commitment, jewelry,...need I say more?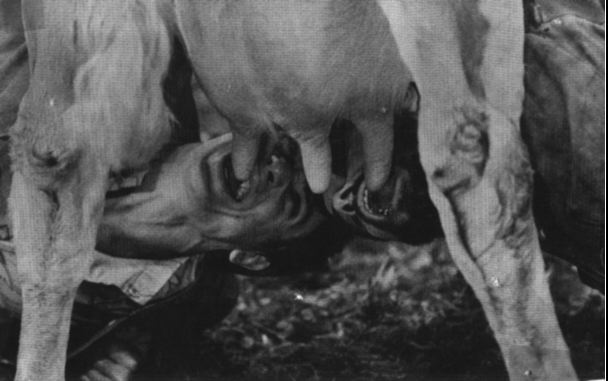 Remember, we care, and we can help!

Back to The Bone Conduction Music Show home page.

home
**
listen!
**
archives
**
schedule
**
radio station affiliates
**
show playlists
**
the witch doctors
**
dig our sponsors
**
visit cool links
**
get on the email list
**
contact us